1.Basic policy
The Group constantly strives to expand its market share in the Demae-can business, its main business. We were able to expand the business as initially planned in the first half of the fiscal year. We acknowledge that we need to build a more robust business base to further establish an absolute position as the No. 1 company of delivery portal sites in view of market environment, among other aspects. The Group has decided to implement the following strategies during the period of the Medium-term Management Plan.
2.Growth strategy
(1) Acceleration of Sharing Delivery® business development
With regard to the business model of Sharing Delivery®, which went into full operation last year, we are convinced that it is a win-win model in which users, restaurants and delivery agencies are all winners. We have made a judgment that the expansion of the measures will be the basis for expanding the business scale of the Demae-can business. We therefore regard the rapid and horizontal development of this new business as one of the most important strategies.
(2) Expansion of active users
Last year, we implemented measures to improve repeat sales from active users including the loyalty program, one of the new strategies. We were able to obtain the results we had planned. However, we were not able to achieve the target number of active users, and we are still far from achieving the target on a global level. In the medium term, there is no doubt that an increase in the number of active users alongside the expansion of Sharing Delivery® will result in continuous growth in the number of orders. Consequently, we came to the conclusion that we needed to acquire active users at an early stage.
The Group believes it is more important to focus on the medium- and long-term business scale rather than the short-term profit. It will therefore make an active investment.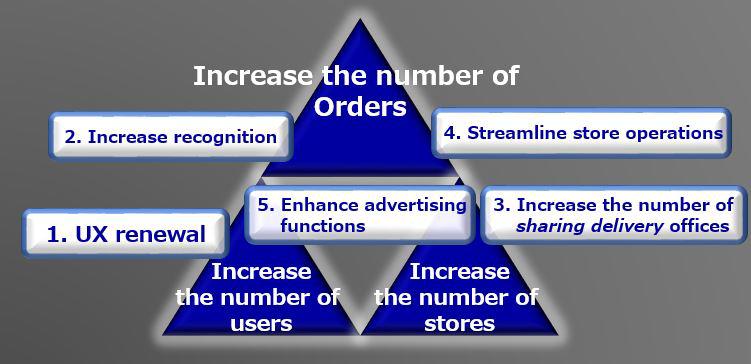 3.Performance targets (consolidated)
Medium-term management plan


(FY ending August 31, 2019
to FY ending August 31, 2021)
FY2018/8
(Actual results)
FY2019/8
(Plan)
FY2020/8
(Plan)
FY2021/8
(Plan)
Number of orders
(10 thousand orders)

2,332

3,149

4,803

6,724

Net sales
(Millions of yen)
5,430
7,000
12,900
18,800
Operating profit
(Millions of yen)
837
(300)
1,700
5,000
* The Group utilizes the rolling method, by which the Group reviews the medium-term management plan every year to respond more appropriately to changes in the business environment.
Note:
Financial results forecasts and future predictions stated in this material are those that the Group has determined based on information available at the present time, and they include potential risks and uncertainties. Accordingly, please note in advance that actual results may differ significantly from the projected figures stated in this material depending on changes in various factors.